https://www.hoopladigital.com/title/11143881
In 1985 southern Sudan is ravaged by war. Rebels and government forces battle for control, with ordinary people . . . people like the boy, Salva Dut . . . caught in the middle. When Salva's village is attacked, he must embark on a harrowing journey that will propel him through horror and heartbreak, across a harsh desert, and into a strange new life.Years later, in contemporary 1985 southern Sudan is ravaged by war, a girl named Nya must walk eight hours a day to fetch water. The walk is grueling, but there is unexpected hope.How these two stories intersect is told in this fascinating dual narrative, performed by David Baker and Cynthia Bishop, with the assistance of dialect coach James Achueil . . . who actually made the same journey across Africa when he was one of the "Lost Boys of the Sudan." This true story is an amazing adventure with a wonderful conclusion. Great for classroom discussions, it is literature drawn from the real world!
Read By |
David
The
New York Times
bestseller
A Long Walk to Water
begins as two stories, told in alternating sections, about two eleven-year-olds in Sudan, a girl in 2008 and a boy in 1985. The girl, Nya, is fetching water from a pond that is two hours' walk from her home: she makes two trips to the pond every day. The boy, Salva, becomes one of the "lost boys" of Sudan, refugees who cover the African continent on foot as they search for their families and for a safe place to stay. Enduring every hardship from loneliness to attack by armed rebels to contact with killer lions and crocodiles, Salva is a survivor, and his story goes on to intersect with Nya's in an astonishing and moving way.
Baker
,
Cynthia Bishop
Similar Titles |
Children's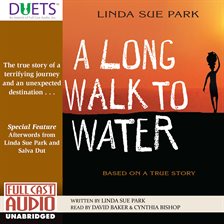 Gr 5-8–Salva and Nya have difficult paths to walk in life. Salva's journey, based on a true story, begins in 1985 with an explosion. The boy's small village in Sudan erupts into chaos while the 11-year-old is in school, and the teacher tells the children to run away. Salva leaves his family and all that is familiar and begins to walk. Sometimes he walks alone and sometimes there are others.
They are walking toward a refugee camp in Ethiopia,
toward perceived safety. However, the camp provides only temporary shelter from the violent political storm.
In 1991-'92, thousands are killed as they try to cross a crocodile-infested river when they are forced out of the country; Salva survives and gets 1200 boys to safety in Kenya.
Nya's life in 2008 revolves around water. She spends eight hours a day walking to and from a pond. In the dry season, her family must uproot themselves and relocate to the dry lake bed where they dig in the mud until water eventually trickles out. Nya's narrative frames Salva's journey from Sudan to Ethiopia to Rochester, NY, and, eventually, back to Sudan.
Both story lines are spare, offering only pertinent details. In the case of Salva, six years in a camp pass by with the barest of mentions.
This minimalism streamlines the plot, providing a clarity that could have easily become mired in depressing particulars.
The two narratives intersect in a quiet conclusion that is filled with hope.–Naphtali L. Faris, Saint Louis Public Library, MOα(c) Copyright 2010. Library
*Starred Review* After 11-year-old Salva's school in Sudan is attacked by brutal rebel soldiers in 1985, he describes several terrifying years on the run in visceral detail: "The rain, the mad current, the bullets, the crocodiles, the welter of arms and legs, the screams, the blood."
Finally, he makes it to refugee camps in Ethiopia and then Kenya, where he is one of 3,000 young men chosen to go to America. After he is adopted by a family in Rochester, New York, he is reunited with the Sudanese family that he left behind. There have been several books about the lost boys of Sudan for adults, teens, and even for elementary-school readers. But Newbery Award–winning Park's spare, immediate account, based on a true story, adds a stirring contemporary dimension
. In chapters that alternate with Salva's story, Nya, a young Sudanese girl in 2008, talks about daily life, in which she walks eight hours to fetch water for her family.
Then, a miracle happens: Salva returns home to help his people and builds a well, making fresh water available for the community and freeing Nya to go to school. The switching viewpoints may initially disorient some, but young readers will be stunned by the triumphant climax of the former refugee who makes a difference with the necessities that we all take for granted. Teachers may want to point out the allusion to
Nelson Mandela's A Long Walk to Freedom (1995)
echoed in this moving book's title. Grades 6-9. --Hazel Rochman
--This text refers to an out
Age Range:

10 - 12 years

Grade Level:

5 - 7

Paperback:

128 pages

Publisher:

HMH Books for Young Readers; Reprint edition (October 4, 2011)

Language:

English

ISBN-10:

0547577311

ISBN-13:

978-0547577319
of print or unavailable edition of this title.
Journals LLC, a wholly owned subsidiary of Media Source, Inc. No redistribution permitted.
--This text refers to an out of print or unavailable edition of this title.